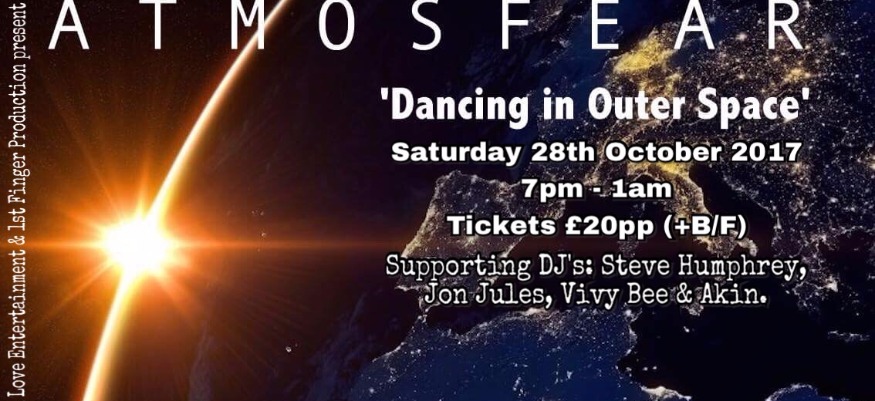 From May 26, 2018 - 07:00 PM
to May 27, 2018 - 12:00 AM
Under The Bridge
Fulham Rd, Fulham,
SW6 1HS, London
ATMOSFEAR – Dancing in Outer Space
Atmosfear are one of a select group of home grown Jazz Funk bands of the early 80's who formed the first wave of the Britfunk music scene.
Co-founder and original bass player Lester 'LB' Batchelor, has a assembled a family of musicians whose collective diverse talents, includes – Orphy Robinson, Dee Byrne, Shelley 'Deeizm' Debenham, Antonello Filaccio, Andrew Miller to recreate the excitement and intrigue of Atmosfear's own brand of experimental intergalactic British funk.
Atmosfear are generally regarded as one of the UK's most influential bands of the early 80's. Their timeless debut single 'Dancing in Outer Space' has stood the test of time, It was a featured track played regularly at the world famous and New York's finest club – Paradise Garage and is now considered an absolute global dance floor classic that still shakes the bars and club dance floors around the world today.
Following the success of 'Dancing in Outer Space' the band became a recording artist with MCA records who produced their debut album called 'En-trance' and featured number of hit singles including – Invasion, Motivation. Ex-tract, Creators Dream, and Interplay.
The final track produced by the original line up was the song 'Xtra Special' penned by Lester and sung in the UK by Beverley Skeete (lead singer with Bill Wyman's Rhythm Kings) and in the USA by Dollete McDonald (singer who featured with David Byrne's Talking heads and on Sting's 1985 Jazz influenced first solo album).
This show is a celebration of the ATMOSFEAR's music and pays homage to the soul boy club night era.